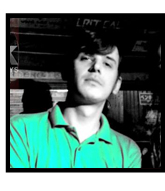 This is the bit about me...
Motion graphics, video, print or web, I'm happy creating eye catching work that stands out from the crowd. Heavily software-based, I have a clean and swift work-flow and a deep understanding of the Creative Suite. Alongside the creative products I hand code websites with great UI's and have worked with most CMS's. Creative and tech-savvy, I am also determined and prepared to do whatever it takes to work in a place that will let me hit my potential. Now working extensively with Cinema 4D, I work towards a constant progression and evolution, keeping step with the latest technological advancements.
---
Skills
Adobe CS Advanced User
Solid Cinema4D Skills
jQuery/HTML/CSS Fluent
Experience of many CMS
OS Agnostic
Education
BA Hons - Digital Media Design
University of Brighton
2009-2010
FdA - Digital Video Production
University of Plymouth
2007-2009
Experience
8 years of freelance experience
Clients from SME's to FTSE MiB listed corporations
Customer focussed approach
Experience in many different mediums
---
I love what I do and am happiest when I'm working on a project. Deadlines don't scare me and I am more than happy dealing with clients. Either on my own or as part of a team I bring a dedicated and focussed approach, coupled with a good sense of humor and a passion for producing digital media of the highest standard. Always willing to go the extra mile, I know I can be an asset to any good team. If this sounds like the sort of thing you're after don't hesitate to get in touch.